A few weeks ago I signed up for a blogger's game of Recipe Telephone put together by
FoodBlogSouth
, an organization that hosts an annual conference of food bloggers in Birmingham, AL (yes, I will be going in 2013!). The idea is based on the old game of "Telephone," in which someone in a group starts a secret, and as it gets passed from person to person miscommunication naturally occurs and the ending message is completely changed. Hilarity ensues. In
Recipe
Telephone, FoodBlogSouth published a roast chicken
recipe
, and passed it on to the first blogger in the series with instructions to change, add, or omit 3-5 ingredients. The next blogger took that recipe and did the same. And so on. Counting the very first recipe, I am number 5.
The blogger who preceded me is none other than
Nancie McDermott
, the author of my two favorite dessert cookbooks:
Southern Cakes
and
Southern Pies
. I have already referred to these books many times on my blog. Yeah, I think she's completely awesome, but whatevs. When I saw my name and blog title on
her
blog, I
definitely
did not squeal. Loudly. Or make every person who passed my office door come in to see. Or go to everybody
else's
office to make sure they had heard. Nope. Didn't do any of that...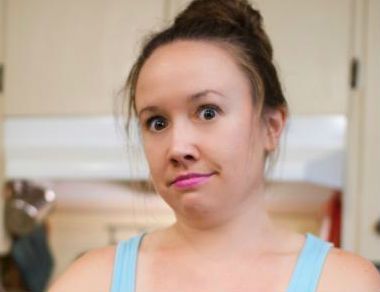 Not me (Bus-ted)
At any rate, here we are and it's my turn. Ms. McDermott posted a scrumptious-looking Thai-inspired roast chicken, but as it was my first ever whole roast chicken I decided to keep it simple. Well, except for lighting the thing on fire. But...we'll get to that. 
With Roasted, Toasted Sunrise Medley Potatoes