Ok, don't get freaked out by the frou-frou sounding name of this dish. All "en papillote"means is "in parchment," and using it is no different than laissezing your bontemps roulez.
Some French Cajun person somewhere is no doubt having an ear bleed right now.
This is such an easy and tasty dish to make, it's a whole meal in a packet, and it's a snap to customize to individual preference. It's also a great meal for one, since it makes no leftovers. My recipe uses catfish, but you can use any fish you prefer. Shrimp is also fine, though I confess I'm not sure about any other meat. Give it a go if you're feeling adventurous, though with chicken especially I'd err on the side of caution and maybe use a meat thermometer. The same flexibility applies to the starch: I used brown rice, but you can use anything you want, or nothing at all. Couscous is nice, as is quinoa or small pasta. Like I said, easily and infinitely customizable.
Mississippi Catfish en Papillote
Serves 4
Ingredients:
4 raw fish fillets (I used catfish)
1/2 red bell pepper
1 fresh leek, tough ends removed
1/4 purple onion
1 cup cooked grain of preference (optional; I used brown rice cooked with yellow squash)
unsalted butter, for dotting
If you're making "my" rice, you'll need:
1/2 yellow squash or zucchini
1/4 yellow onion
1 clove garlic
1 T oil of choice
1/2 t dried thyme
1/2 cup uncooked brown rice
1 cup chicken stock
1 bay leaf
Directions, Rice:
Chop yellow squash or zucchini into 1/4" square pieces. Dice yellow onion and mince garlic. Heat oil in medium sauce pan, and add vegetables. Sauté until fragrant and soft. Add dried thyme and stir. Add uncooked brown rice and toast for about a minute. Add chicken stock, raise to high heat until boiling. Once boiling, lower to medium heat and simmer, covered, until rice is done.
Directions, Papillote: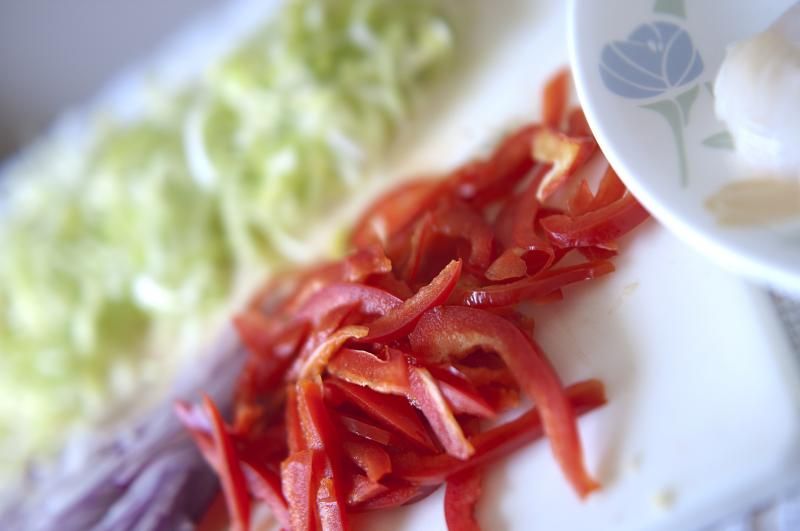 Preheat oven to 400 degrees F. Prep 4 sheets of wax or parchment paper approximately 18" long and set aside. Clean and slice the leeks (directions below). Slice peppers and onions into thin strips. Cut fish fillets into 3-4 pieces, depending on the size of the fish.
Arrange everything in a sort of assembly line.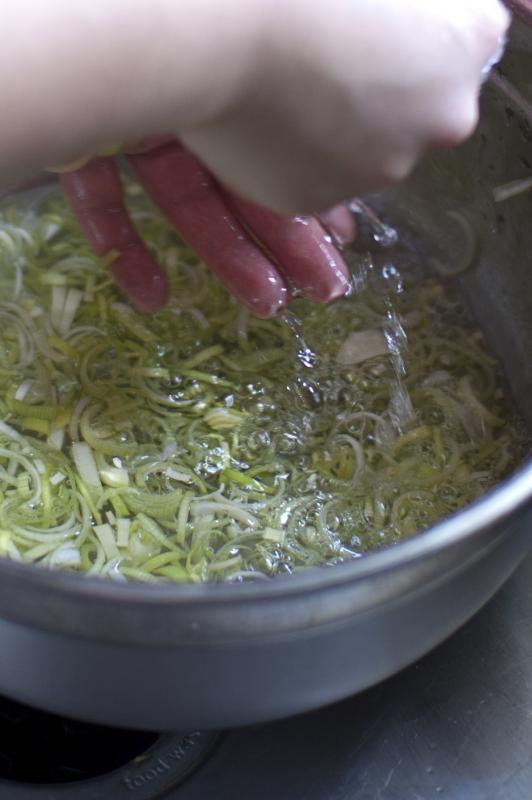 Skip this if you already know how to clean leeks.
Leeks are made up of many layers (like onions and ogres), and they grow in the sand. This combo means if you don't clean them properly your dish will be gritty. To clean leeks: remove tough dark green ends and roots. Slice in half lengthwise, and cut each half up the stem into half moons, about 1/8" in width. Place half moons in a medium mixing bowl and fill with water. Swirl leeks around, separating the layers from each other, then leave for about 5 minutes. The sand will settle to the bottom, and the leeks will float. Scoop clean leeks off of the top of the water, pat dry with a towel, and get on with your life.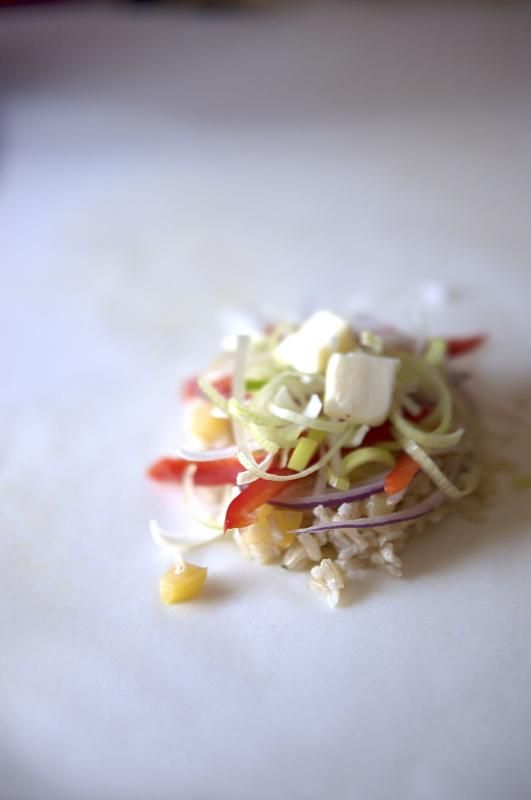 To assemble the papillotes: spray a sheet of parchment with cooking spray. Fold the sheet in half (like a hamburger, not a hotdog), and reopen. Using the seam as a guide, find the center of one half. Scoop approximately 1/4 cup rice/squash mixture into the center. Put a small handful of onions, then peppers, then leeks on top of the rice. Dot with about 1 T butter per packet.
Layer fish over veg/starch, season with salt, and pepper to taste
(I do not endorse tasting the raw fish)
Fold unused half of parchment over fish, and begin closing your "envelope." Even though (or perhaps because) this is so simple, it's hard to describe how this is done. Basically you just make a series of overlapping folds along the edge, closing the edges of the parchment together, and your endgame is making a heat/steam trap.
Bake on a sheet pan for 15-20 minutes, or until the fish through the paper is too hot for you to hold the back of your hand to it. If you're uncertain of doneness, open the packet just a crack and test the fish with a fork.
It should flake easily.
Remove pan from oven, and serve immediately. To serve: plate entire packet, and cut a round opening in the top.
Part of the experience here is the aroma as the packet is opened, so don't miss that!
Hooray Frenchy Flaky Fishy Packet!
I hope you enjoy this dish as much as I do,
and as always thank you for stopping by!